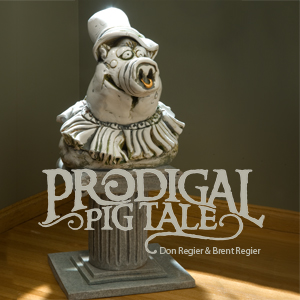 Prodigal Pig Tale. An e-book that you can read on any digital device. Read it to the kids in your life.
When Hamlet McSwine wants to leave the pig farm to find fame and fortune like his heroes, he gets some savvy advice from a ragged farm hand (Sonny, the prodigal son).
You'll appreciate the story's timeless lessons about forgiving and being forgiven.
The Kindle Edition will delight kids of all ages with its whimsical clay characters who live on an amazing ("piggish") farm. You can even read this book on your smartphone! Get it from Amazon.
The iBooks Edition adds videos and interactions, and will play on most Apple devices. Kids love to turn the farmhouse lights on and off, and watch Hamlet break a window . . . again and again. Get it from iBooks.